Kerry attended Sumner Primary School, Christchurch, New Zealand in the mid 70's her foremost recollection is of a school trip when she drew Shag Rock. To her amazement she had transferred her vision to paper. Her interest continued with drawing through High School and although partly self-taught she spent two years studying art at Hagley Community College in 1991 to 1992 .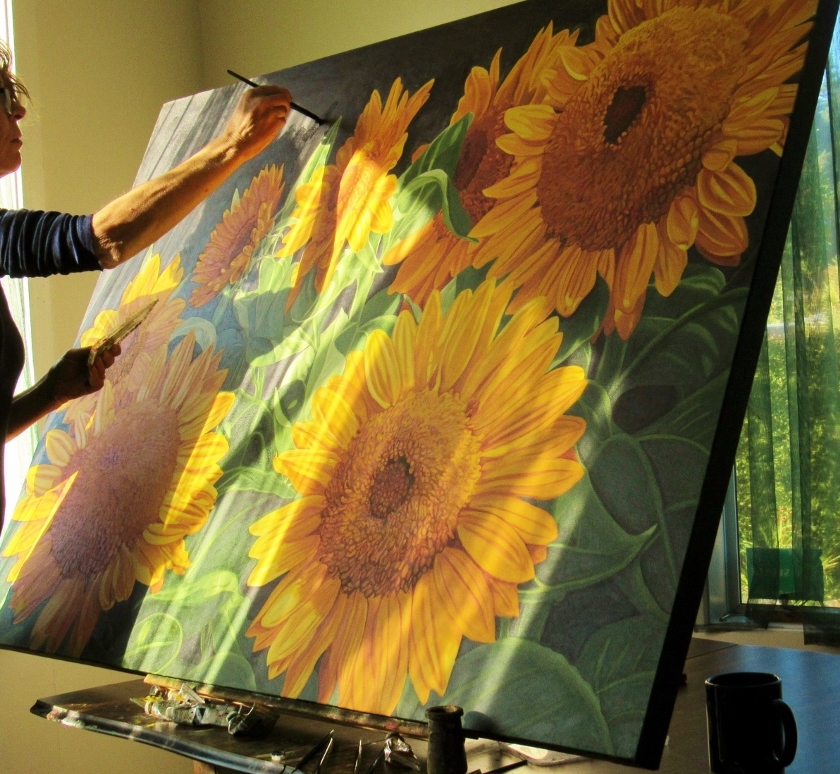 About
Her friendship with New Zealand artist Kees Bruin has been a huge inspiration over the years his mentoring and encouragement has been invaluable. She continues to paint in acrylic and oils, her works reflect the changing landscapes and still life works often contain plants because she loves nature. Kerry paints mostly in a realistic style to calm her at times untamed imagination, realism keeps her grounded, she is inspired by Gods creation yet not fearful to explore new idea's when it comes to the art's.
Kerry is fascinated with the contrast of light and dark and natures use of subtle tones, the softness and harshness of light vying for attention with shadows that taunt the clouds that race by. When painting landscapes, she is drawn in by the background of what lies beyond. Images of what might have gone before shape the intricate detail of what is tangible and glimpsed in a moment, but not easily forgotten.
Kerry's following has gathered momentum since 2002 when, encouraged by friends and family, she was driven to pursue a full-time career in art. Her works have sold to gallery owners and to private buyers in New Zealand and overseas.Her Work is also reproduced on wild side and Red bubble products umbrellas, bags, scarfs, tiles, t shirts etc which are sold through out New Zealand in retail outlets and online international shopping stores. In 2008 Kerry won the yellow art awards and a painting featured on the cover of the Otago phone book 149,000 were printed and in circulation for 12 months through out Otago.